Order Frequency Insights Added to Grubhub for Restaurants Portal
Back in May, we introduced three updates within the Grubhub for Restaurants (GFR) portal to drive more value to our restaurant partners that help them grow their business: Customer Insights, Self-Serve Refund Requests and Self-Serve Photoshoot access. Building on the Customer Insights tool where restaurants can filter their sales and order metrics by new or returning diners and Grubhub+ or non-Grubhub+ customers, we've added Order Frequency Insights within GFR. With these ordering insights, restaurant owners now have visibility into how often their customers are ordering from them. 
To get started, users select the "Insights" tab in GFR and can then view customer order frequency history from the last 90 days within the Customer Insights page. They can segment customers out by new or returning diners and Grubhub+ or non-Grubhub+ customers. Further highlighting the value of their Grubhub+ customers, restaurant owners can view their average number of orders per Grubhub+ customer and their most loyal customers, defined as those who rank in the top 10% of their order volume. And to drive action, users can click the links at the bottom of the page to view more details on how to run promotions and loyalty programs.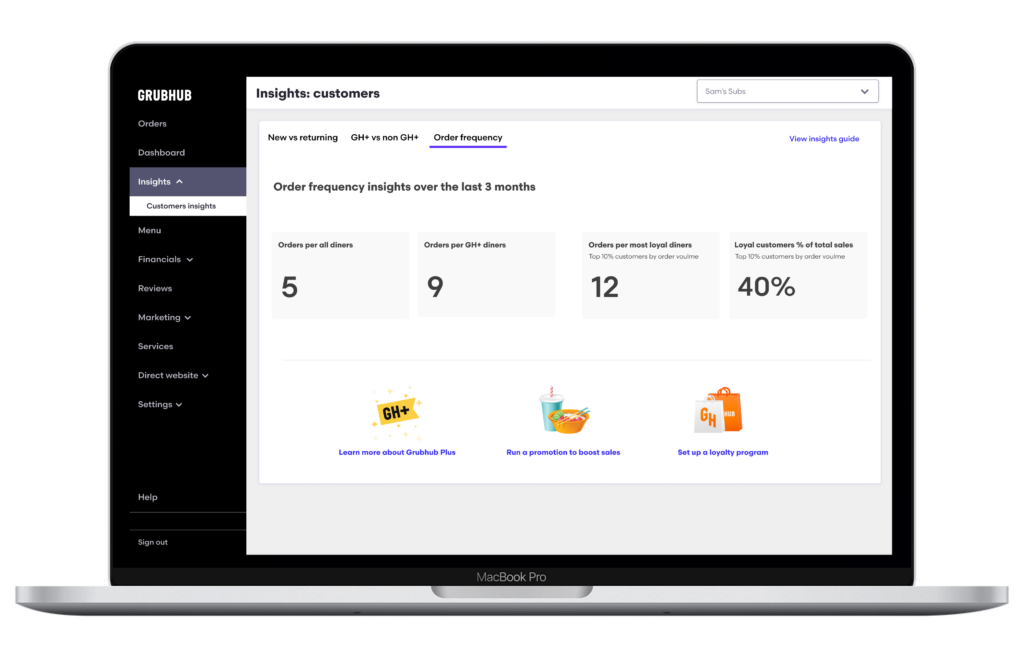 "Our restaurant partners leverage Grubhub as an acquisition tool to attract new customers, build relationships with these customers, and drive retention. They've been asking for more tools that help them do all three," said Liz Bosone, vice president of restaurant success at Grubhub. "With our latest addition of Order Frequency insights within the Grubhub for Restaurants portal, we're providing our partners with tools and data that will empower them to not only understand who their most loyal customers are, but how to best engage with them to drive more frequent ordering."
To stay up to date on the latest updates in GFR, visit here.