New Features in Grubhub for Restaurants Portal Help Restaurateurs Grow Their Business

When it comes to running a business, we know how important it is for restaurateurs to easily understand all facets of their operations. That's why we originally created the Grubhub for Restaurants (GFR) portal — a place where restaurateurs receive orders through Grubhub, see their order and sales volume, run promotions, rate drivers, adjust their menu and hours and more. As restaurateurs demand more from their partners, we continuously make improvements to GFR to account for their feedback and make sure we're providing a valuable tool for our partners.
Today, we're excited to announce the latest updates to GFR. These were developed based on feedback from our partners, including the request from restaurateurs to segment out order and sales volume by audience, automatically request refund adjustments and easily request a photoshoot as their menu changes. 
"We want the Grubhub for Restaurants portal to be an all-in-one platform for our partners, and we're excited to roll out new tools and insights to help them reach their business goals," said Liz Bosone, vice president of restaurant success at Grubhub. "Satisfaction with Grubhub from our partners is incredibly important to us, and we believe that improvements like these drive incremental day-to-day and long-term value to our partners. We're committed to continuing to address feedback from our partners and add more features to GFR that provide even better service to our restaurants."
Customer Insights
Restaurants value providing exceptional service to their customers since they know it keeps them coming back, and in order to best serve them, they need to know how they behave. Our partners have asked us for more insights into their customers, and we've listened. Now, restaurateurs will see a tab within GFR labeled Insights. Within that tab, they can navigate to Customer Insights and filter their sales and order metrics by new or returning diners and Grubhub+ or non-Grubhub+ customers. 
With this addition, they can select up to a full year of aggregated data at a time and compare sales and order metrics. As a result, they are able to better understand their customers' ordering behaviors and can strategically adjust their marketing efforts on Grubhub accordingly. This is just the first iteration of insights that we'll be adding to GFR. As we continue to receive feedback from our partners, we'll continue to build on this feature.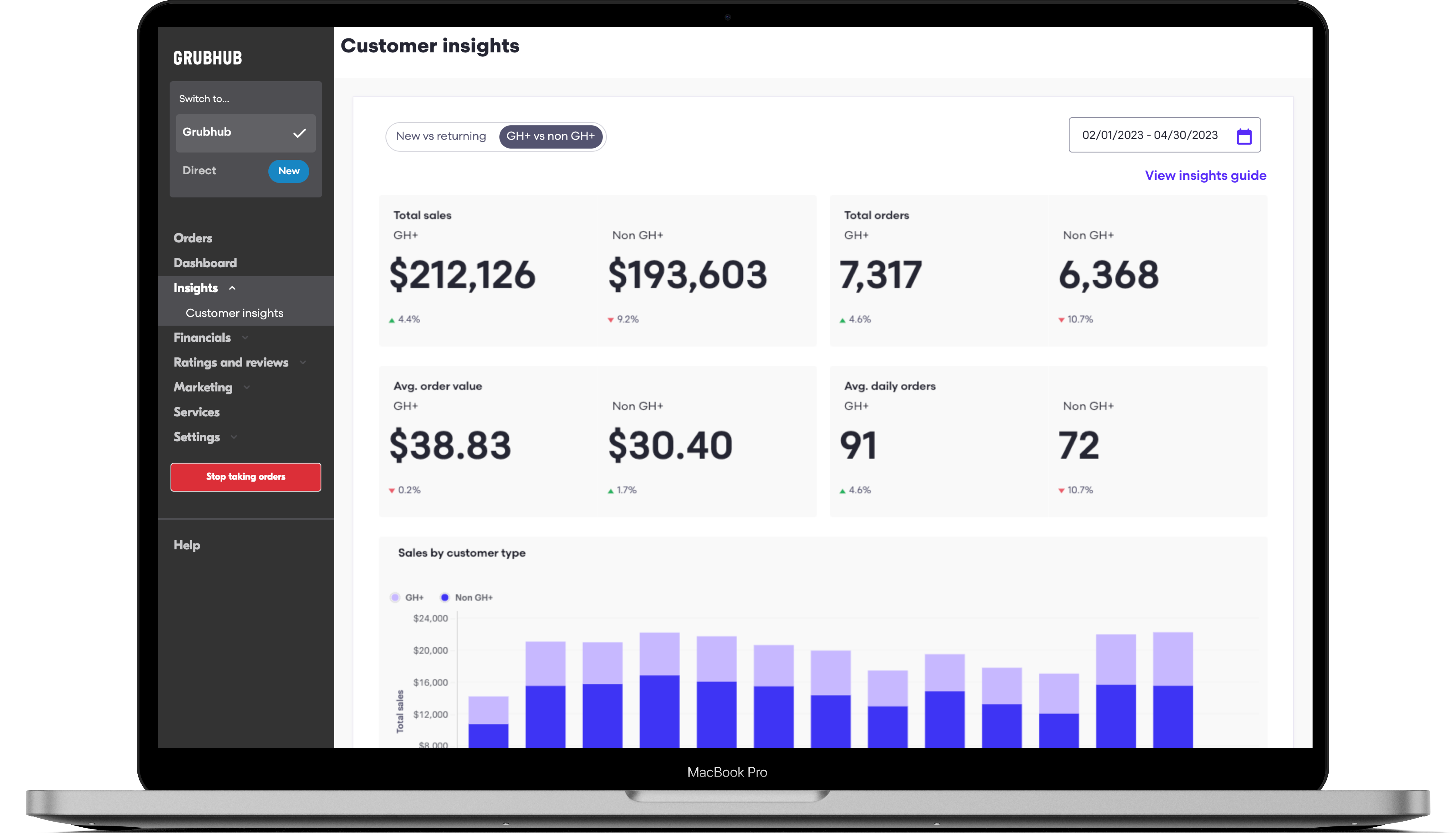 Self-Serve Refund Requests
We always aim for things to go right during deliveries, but when things don't go as planned — whether that's because a drink got spilled, an item was missing or something else — it's not clear to our partners who is on the hook for the refund — us or them. Now, restaurateurs can automatically request an adjustment directly in GFR to dispute a refund. This was previously a manual process requiring them to chat or call into Grubhub Care. This new automatic process now cuts the time spent disputing refunds from 10 minutes to 1 minute. 
Restaurateurs can dispute a charge up to 30 days after the original order date, and all they have to do is click into the specific order ID, hit the "Dispute adjustment" button and select a reason for the dispute. Once they submit a dispute, an agent will look into the refund and respond within 24 hours. With this update, we're doing right by our partners and giving them back valuable time that they can spend running their businesses and serving customers.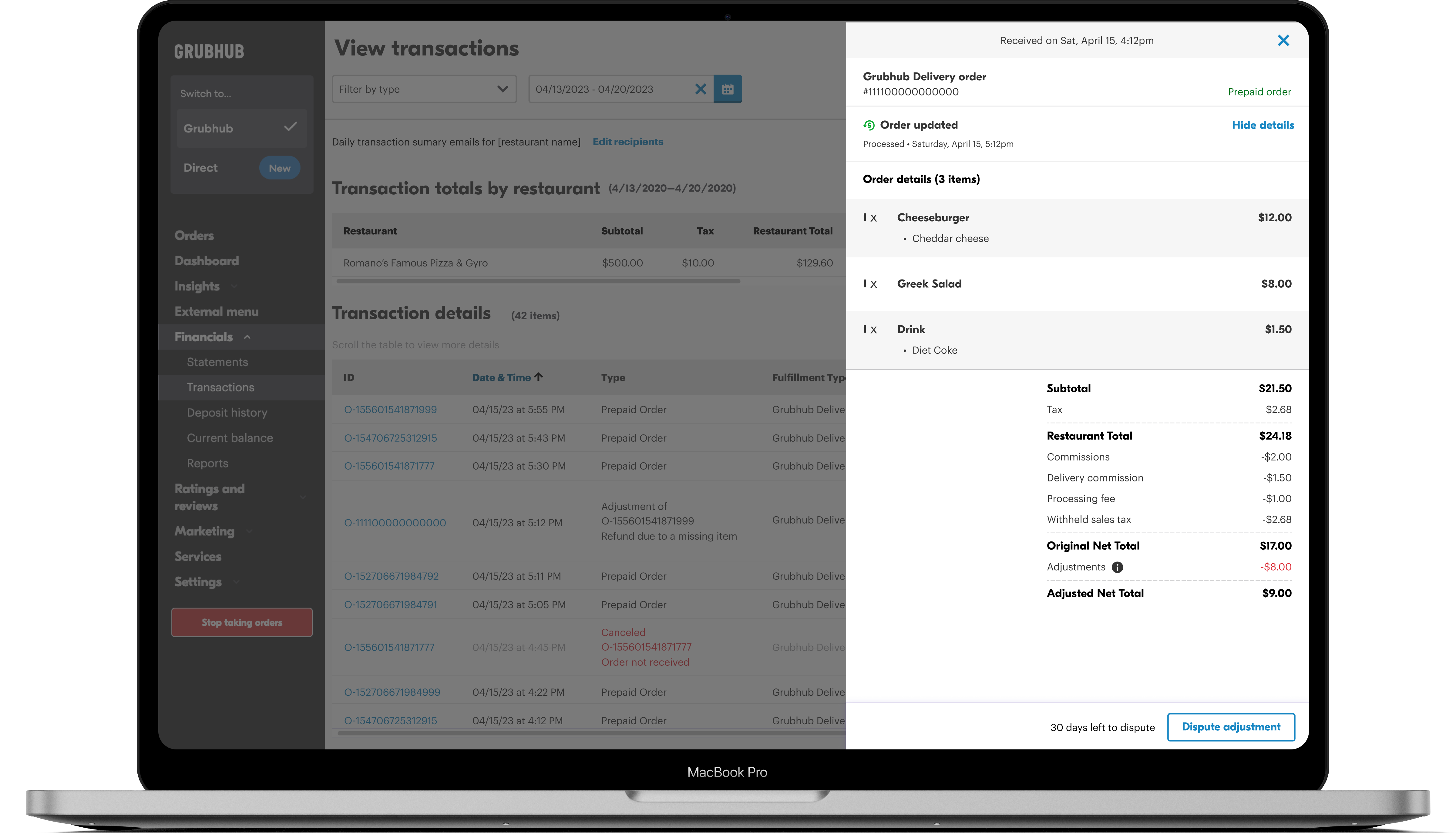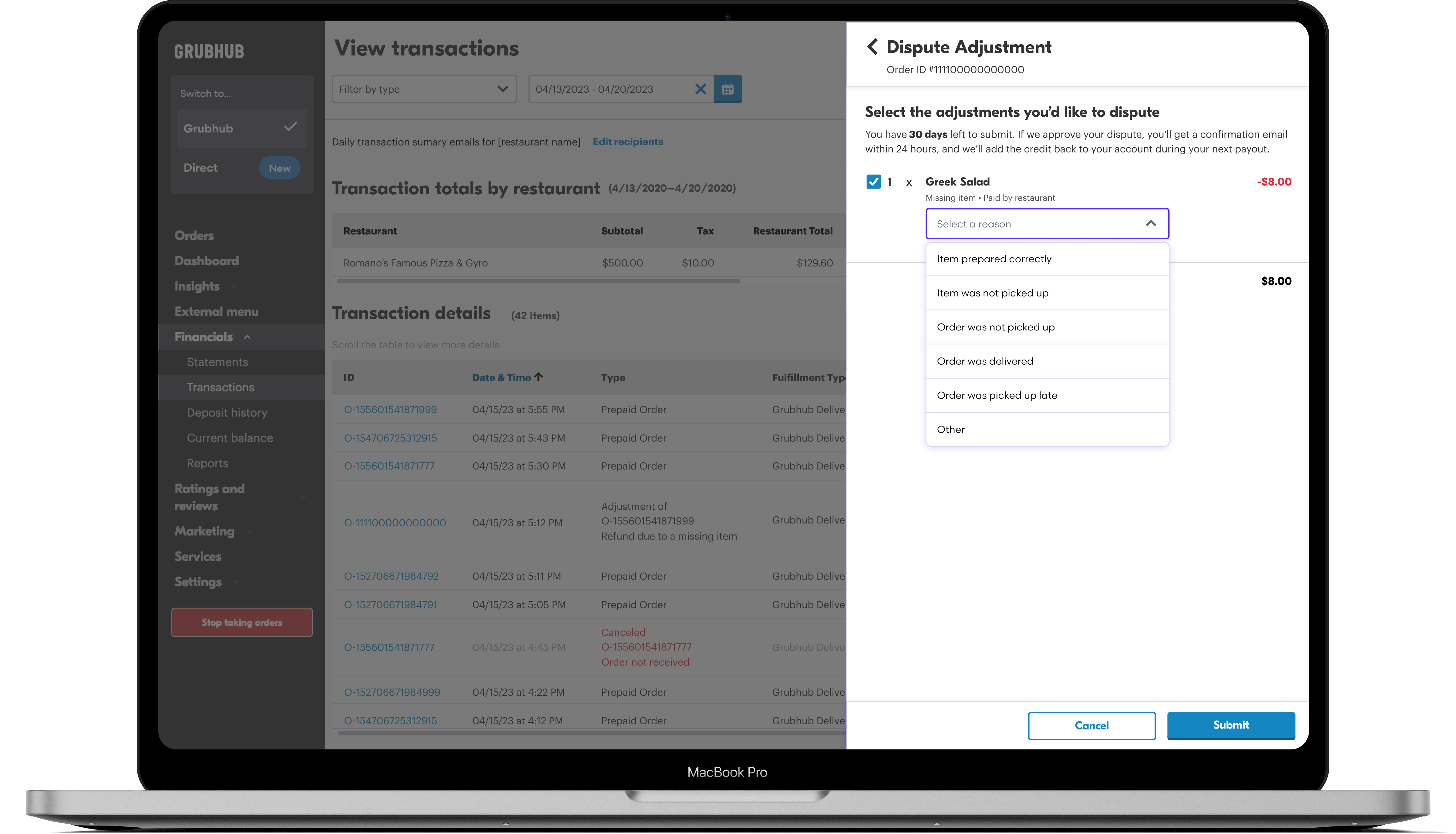 Self-Serve Photoshoot Access
Having images on a menu can lead to 70% more orders and 65% higher sales for our partners, and to help drive higher photo coverage and quality on menus, we're increasing how often we present our partners with the opportunity to book a photoshoot in the GFR portal. 
We know that menus change often, especially seasonally, and with that comes the need for different photos. Today, we're updating the opt-out experience so that restaurateurs can snooze the banner for 30 days after they first select the "I'm not interested" button. The banner will return every 30 days after an opt-out and every 90 days after a booking. Our goal with this update is to better understand our partners' needs and provide them with flexible options that support their business objectives.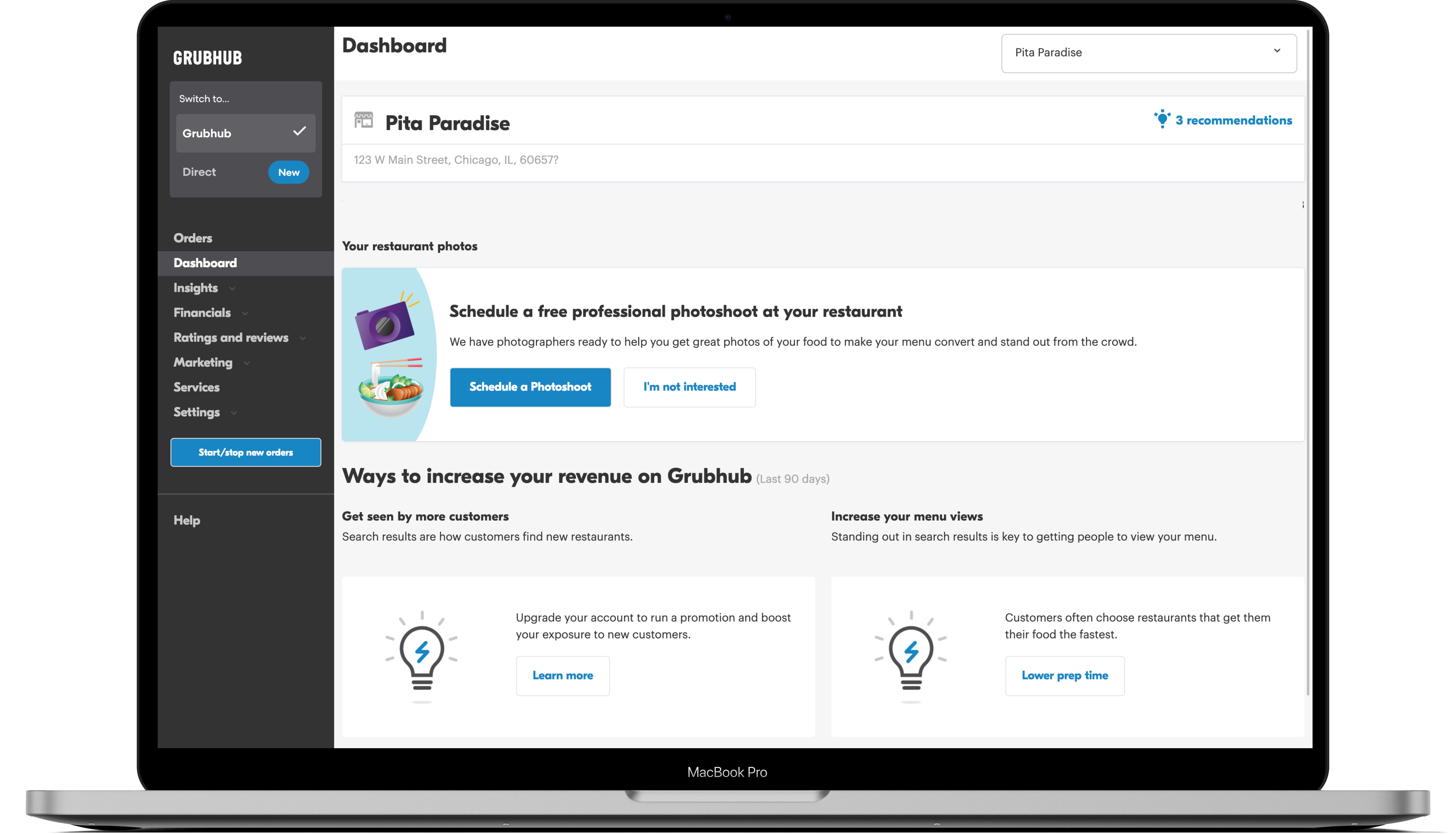 To stay up to date on the latest updates in GFR, visit here.