Grubhub Celebrates $22 Million to Communities Nationwide in 2022
Proud to drive meaningful change through partnerships with more than 34 nonprofit organizations and continue expanding impact in 2023
By Dave Tovar
SVP Communications & Government Relations
Last year marked an important evolution in Grubhub's philanthropic efforts. As the food service industry reset post-pandemic, we had the opportunity to rethink how we support the people and communities where we operate. We followed through with the philanthropic commitments made in 2021, and we added new partners, resulting in more than $22 million going to support more than 350 communities across the country. 
Our new vision includes three focus areas: supporting independent restaurants, working to close the hunger gap, and creating more opportunities for people in the hospitality industry. In 2022, 87 percent of our philanthropic resources supported this work. We are continuing to evolve as we enter 2023, partnering and supporting collective action on issues that face our industry and the communities in which we operate. Taking key learnings from existing partnerships, we continue to prioritize impact and identify new ways that we can not only direct philanthropic support, but also leverage our business to drive meaningful change.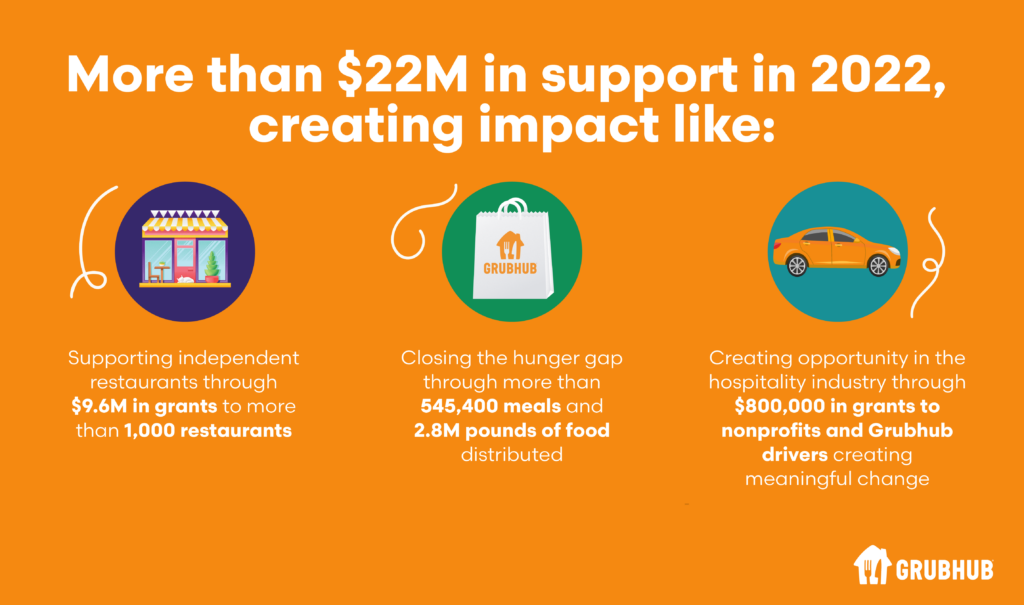 As we start a new year, I want to highlight some of the impactful work happening in communities across the country, including:
Supporting

34 national and regional nonprofit organizations*

facilitating work in our three focus areas through the

Grubhub Community Fund

. These partners make up a network of more than 400 organizations providing access to essential needs like food, access to capital, and access to opportunities to drive mobility and impact.  

Addressing the growing hunger gap caused by food insecurity and distributing

527,902 meals and 2.8 million pounds of food

through 14 nonprofit partnerships funded by the Grubhub Community Fund. Even better, more than 70% of the food distributed came from food recovery programs which means it would have otherwise gone to waste.

Providing an additional

17,500 meals

purchased from local independent restaurants to serve families and individuals living in housing authorities, senior centers, and veterans' residences in 35 districts across the five boroughs of New York City through our

Serving the City

program.

Granting

20 drivers with $10,000

each to make a

positive impact on their community

. 

Amplifying the impact of our employees and matching

432 employee donations

to local nonprofits across the country.

Aiding in rapid response through the Grubhub Community Fund, which provided

$1,250,000

in Ukraine support to the United Nations High Commissioner for Refugees and World Central Kitchen and providing $100,000 in support to Bronxworks, Inc. to help 120 families re-establish housing following the devastating Bronx fire. We also provided $25,000 in aid to Feedmore Western New York as they worked to provide support to the communities devastated by the mass shooting in Buffalo, NY. 
More than ever, we are focused on what it means to make a difference and drive impact as we execute against our new vision. The stories of the individuals, families and communities impacted by our efforts continue to inspire us, and I would like to share some special stories with you.
Supporting Independent Restaurants 
Creating access to capital and business development opportunities for local, family-owned businesses is at the core of our goals for independent restaurant-focused philanthropic support. In addition to our continued relationship with the Greg Hill Foundation's Restaurant Strong Fund, we also partnered with diverse business organizations to drive programs and opportunities for AAPI-, Black-, Hispanic- and LBGTQ+- owned restaurants. These efforts, supported by the Grubhub Community Fund, have helped local independent establishments close gaps in payroll, replace broken equipment and update kitchens, and market their spaces. This also includes providing winterization grants which enabled 70 restaurants in New York, Chicago, Boston, and Philadelphia to adapt to the colder months and expand outdoor areas. For example:
Elena Barcenes of

Rincón Salvadoreño

is the proud owner of New York City's first Salvadorean Restaurant serving the community since 1980. Elena's restaurant is family-owned and operated, and they were hit hard in recent years. She used the Grubhub grant to keep her staff employed during the lean months and shared, "I have fought my hardest to keep my doors open. I am a minority woman fighting to contribute to society by offering jobs and serving our Jamaica Community". 

Zachary Lucchese-Soto of

Bluebird Café

in Chicago is using the Winterization funds to keep his patio open during the frigid weather. The patio is the restaurant's lifeblood and accounts for 50% of their overall seating and by keeping it open year-round, his business can thrive no matter the weather conditions.
Already in the works in 2023, we are supporting 130 new winterization grants and continuing our partnerships with our diverse business partners, prioritizing equitable access to opportunity across the programs we support. 
Working to Close the Hunger Gap
Since the launch of Donate the Change in 2018, allowing diners to round up their total to the nearest dollar at checkout and donate to charitable causes, we have worked to identify partnerships and initiatives focused on closing the hunger gap across the country. In 2022, we successfully expanded our efforts by not only supporting the direct distribution of ready-to-eat meals and groceries to individuals and families in need, but also narrowed in on identifying new opportunities to drive impact. Collectively this resulted  in more than 545,000 meals, 2.8 million pounds of food, and geographic expansion of the food recovery programs we support. Our newest endeavor leverages our ordering platform to provide those experiencing food insecurity access to meals through our partnership with Bento.
We've also embarked on new ways to support collective action. In June 2022, we launched our Serving the City program in New York City. Through this program, Grubhub works in tandem with local restaurants and New York City Council members to address food insecurity, positioning us to understand specific needs in the community and then partner with local restaurants to purchase and provide culturally-appropriate meals where they are most needed. In 2022, we purchased 17,500 meals which were provided to individuals and families living within housing authorities, senior centers, and veterans' residences in 35 districts across the five boroughs of New York City.
Councilwoman Julie Menin, Chair of the City Council Small Business Committee, and Grubhub purchased 500 meals from family-owned restaurant Mansion Diner and distributed them to area residents at The Stanley M. Isaacs Neighborhood Center. Councilwoman Menin noted that "This is an excellent partnership between community leaders, small businesses and an online food ordering company. By partnering with our local restaurants, Grubhub is truly committing dedicated resources to combating hunger in New York City."

Councilwoman Linda Lee joined Grubhub to deliver 250 meals to seniors at Commonpoint Queens in Little Neck and homebound seniors at Deepdale CARES NORC. Following the visit, Danielle Ellman, CEO of Commonpoint shared, "With more than one in 10 seniors facing food insecurity, programs like these are literally saving lives by getting healthy meals to our most vulnerable. Thank you to Grubhub and Council member Lee for their support in helping older adults age with dignity."
Creating More Opportunities for People in the Hospitality Industry
Supporting those working within the hospitality industry, especially our delivery partners, remains a focus for Grubhub. In 2022, we kicked off a second year of grants to directly support our delivery partners looking to drive meaningful change in their communities. The recipients of our Driver Grant Program continue to do amazing work in their communities. For example, our New York City driver, Galliano, used his $10,000 grant to support youth in his community by providing them with school supplies and nutritious before-and-after-school snacks to help keep students engaged in learning. Chicago based driver, Symone, is also using the grant to support two local nonprofit organizations, Nourishing Hope and the Telpochcalli Community Education Project. Symone is an active member of the Telphochalli Community education fund, which mobilizes youth for social justice work by building individual capacity and mutual responsibility through culturally relevant and community-directed education. She's also using a portion of the grant to continue her own schooling.
Additionally, the Grubhub Community Fund supported several new partnerships focused on job training, job placement and work that champions removing barriers to opportunity within the hospitality industry via collective action. To date, we have partnered with The Hospitality Project, Momentum Advisory Collective, and Women in Hospitality United. As our newest focus area, we know there is more work to be done and we look forward to identifying new opportunities where we can expand our impact. 
Looking Ahead
As we look ahead to 2023, we're focused on creating more impact in the communities we serve, in ways Grubhub is uniquely positioned to do. We believe in supporting independent restaurants to positively impact communities, using technology and our network to help close the widening hunger gap, and creating opportunities in the hospitality industry.
*See here for a full list of the 34 Grubhub Community Fund partners awarded a grant in 2022:
ACE Foundation

Bronxworks Inc.

East Central Illinois Refugee Mutual Assistance Center (The Refugee Center)

Ethiopian Community Association of Chicago

Feed the Soul Foundation

Feedmore Western New York

Food Bank for NYC

Greater Boston Food Bank

Greg Hill Foundation – Restaurant Strong Fund

Heartland Human Care Services, Inc.

Hospitality Project Inc 

JCFS Chicago (HIAS)

Junior League of Kansas City Mo Inc.

Madison Square Boys and Girls Club

MEANS Database

Momentum Advisory Collective (Cafe Momentum)

NGLCC Foundation

Nourish PHX

Nourishing Hope

Piatt Family Foundation

Plant Powered Metro New York

Queens Center for Progress

Rescuing Leftover Cuisine

Star House Foundation

Tacombi Foundation

UNHCR (The UN Refugee Agency)

Union League Boys and Girls Club of Chicago

US Black Chambers CEDC

Variety Boys and Girls Club of Queens

Women in Hospitality United

World Central Kitchen

World Relief Chicago

World Relief Quad Cities

Youth Guidance
The Grubhub Community Fund is a donor advised fund at a national sponsoring organization. The Grubhub Community Fund is made possible through donations from our customers through our Donate the Change feature. Grubhub matches contributions on eligible orders from our Grubhub+ members.