The Grubhub Community Fund Full Plate Program to Provide up to $1 Million in Microgrants to Chicago Nonprofits – Now Accepting Applications
One in five Chicago area households experience food insecurity – the lack of consistent access to adequate, nutritious food. To help ensure our neighbors have regular access to food and meal services, Grubhub is introducing our Full Plate Program, made possible by the Grubhub Community Fund*. This new microgrant program will support nonprofit organizations who provide food and meal services as a core part of their mission in our hometown with up to $10,000 each in grant support. All told, Grubhub's goal is to recommend a total of up to $1 million in grants through the Grubhub Community Fund. The program will be administered in partnership with Greater Chicago Food Depository and Nourishing Hope.
Interested Chicago-based nonprofit organizations can apply now through 5 p.m. CT on Monday, Nov. 13, 2023. Applications will be evaluated based on need, impact, and demonstration of fiscal responsibility. Organizations approved for funding will be announced in December 2023.
Grubhub is committed to supporting local, community-centered programs that provide access to nutritious foods and beverages to individuals and families in need, and we are grateful to Greater Chicago Food Depository and Nourishing Hope for helping make this possible. For additional application details, please visit https://grubhub.smapply.io/.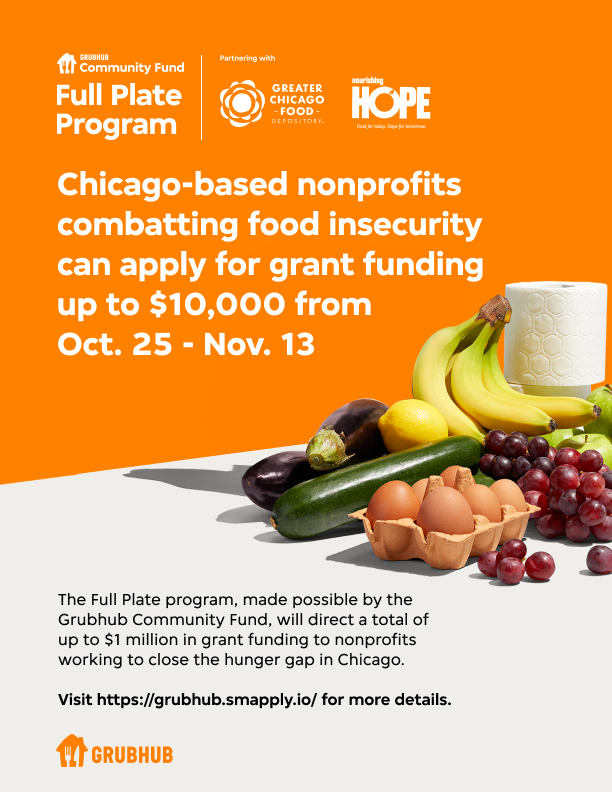 *The Grubhub Community Fund is a donor advised fund at a national sponsoring organization. The Grubhub Community Fund is made possible through donations from our customers through our Donate the Change feature. Grubhub matches contributions on eligible orders from our Grubhub+ members.