Grubhub Unveils New, Faceted Ratings and Reviews System
Over 6.5 million diner-provided data points collected since December 2015 deliver actionable, accurate information for Grubhub customers and restaurants
CHICAGO, July 11, 2016 /PRNewswire/ — Grubhub, the nation's leading online and mobile food-ordering and delivery platform, today announced the launch of its new, faceted ratings and reviews system. The new system provides in-depth insights into three aspects of the takeout experience: accuracy of delivery time, order accuracy and food quality. It also raises the bar for transparency and trust in the online restaurant ratings and reviews space, with an unprecedented volume of diner-generated data and fraud prevention enhancements.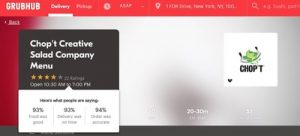 "Grubhub works hard to connect diners with the food they love from their favorite local restaurants, and to help restaurants succeed with innovative tools and technology," said Sudev Balakrishnan, Senior Vice President of Product, Grubhub. "We saw an opportunity to empower our diners by giving them accurate information on the aspects of the ordering experience they care about most, so they can make the ordering decision that best meets their needs.  At the same time, we are able to help restaurant owners attract and retain more loyal diners by providing transparency into the factors that influence the rating of their restaurant."
The new system is powered by a true collaboration with diners. Each day, Grubhub collects, on average, 70,000 data points from its customers. These data points are provided by diners shortly after they receive and consume their meal, via a short text survey, or a survey that appears when the diner logs back onto the Grubhub site. In either case, the diner is asked a short series of questions about their experience. The data from these responses is then aggregated into an overall star rating as well as a score for each facet of the ordering experience.
Cultivated through extensive market research and usability testing with both new and existing diners, the new system provides significant benefits for diners and restaurant owners, and is tailor-made for the online food ordering experience.
Benefits for Diners
More useful information to make educated ordering decisions, including insights into:

Order accuracy
Food quality
Accuracy of delivery time

An easier, faster way to provide timely reviews of local restaurants
Increased trust due to improved accuracy and timeliness of reviews
Benefits for Restaurants
Insights into what Grubhub users love about their restaurant
Detail on actionable opportunities to improve service and grow diner loyalty
Improved accuracy and timeliness of reviews
"At Chopt we're focused on providing our diners with great local ingredients and a top of the line experience whether they order in one of our many locations or online," said Tom Kelleher, SVP of Operations for Chopt Salad Company. "The new ratings and reviews process provides us with feedback on each level of the delivery experience — time, accuracy and taste — so that we are able to maintain our high quality standards for new and existing customers."
The new ratings and reviews system is now available on Grubhub and Seamless desktop and mobile web.
To find takeout restaurants available in your area, check out Grubhub.com. If you are interested in becoming part of the Grubhub Delivery team, please visit driver.grubhub.com. To find out how your restaurant can join Grubhub, check out get.grubhub.com.  To learn more about Grubhub and its portfolio of brands, please visit http://media.grubhub.com.
About Grubhub
Grubhub (NYSE: GRUB) is the nation's leading online and mobile food-ordering company.  Dedicated to moving eating forward and connecting diners with the food they love from their favorite local restaurants, the company's platforms and services strive to elevate food ordering through innovative restaurant technology, easy-to-use platforms and an improved delivery experience.  Grubhub is proud to work with more than 44,000 restaurant partners in over 1,000 U.S. cities and London. The Grubhub portfolio of brands includes Grubhub, Seamless, AllMenus, MenuPages, Restaurants on the Run, DiningIn, LAbite and Delivered Dish.
Photo – http://photos.prnewswire.com/prnh/20160708/387674
Logo – http://photos.prnewswire.com/prnh/20151014/276973LOGO