Grubhub gives restaurants expanded commission-free ordering solutions
As restaurants face uncertain and challenging times this winter, Grubhub is introducing a new package of marketing commission-free solutions to make it easier for restaurants to do online ordering through their own digital channels or on-premise properties. These solutions build upon the hundreds of millions of dollars we've devoted since March to restaurant support and demand generation, and give restaurants more ways to leverage our Grubhub technology to fulfill orders.
This new package – the Direct Order Toolkit – gives restaurants free access to three solutions to help them drive online orders without any marketing fees:
Direct Order Link: An ordering link for restaurants to use in their email marketing or to post on their social media accounts
Direct Order Button: A customizable "Order Now" button for restaurants to put on their own websites
Direct Order QR Code: A unique QR code for restaurants to include in printed materials like mailers or signs<

Above: Direct Order Toolkit available within the Grubhub for Restaurants Dashboard
Grubhub does not charge any marketing fees to restaurants on these orders – just an order processing fee, which the restaurant would face regardless for credit card processing, and a delivery fee if the restaurant wants to use our drivers for delivery. Leveraging our drivers – for these direct order solutions or on our marketplace – is always optional, and tens of thousands of our restaurant partners choose to do their own deliveries with no delivery charge by Grubhub.
"It's never been more important than right now for Grubhub to find and develop ways for our independent restaurant partners to serve their customers and drive online orders," said Seth Priebatsch, Grubhub's chief revenue officer. "The Direct Order Toolkit delivers on that commitment and makes it easy for restaurant owners to offer takeout and delivery on their own channels by adding these commission-free online ordering capabilities."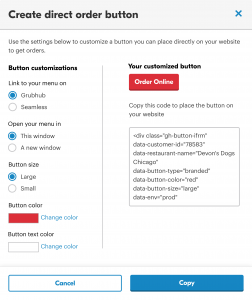 Above left: Customizations for the Direct Order Button. Above right: Download options for the Direct Order QR Code
The Direct Order Toolkit is available to restaurants directly on their Grubhub for Restaurants Dashboard. These solutions improve upon Grubhub's previous online ordering link solutions, offered since 2013 and used for millions of marketing commission-free orders to restaurants.
This is just one step of many to enable restaurants to build loyalty and drive orders in the best way for their unique business. With deep experience through our in-house agency LevelUp, we power websites, apps, loyalty programs and ordering platforms for restaurants. And in the coming months and beyond, we're committed to providing even more solutions to give restaurants options to drive more orders and serve their communities.