Grubhub Encourages Americans to "Deliver Your Voice" Ahead of the 2020 Elections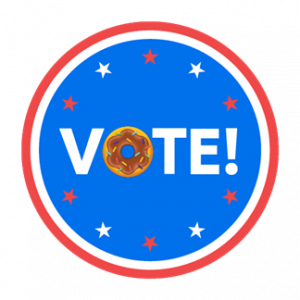 The country is gearing up for the 2020 elections next month, and at Grubhub we want to make sure every voice is heard. While voting may look different this year, we're committed to giving our diners the resources they need to get out and vote, whether it's on Election Day, through their mail-in ballot, or by voting early.
To help provide our community with these resources, we've partnered with non-partisan organization HeadCount to assist our diners and employees in getting registered, requesting their ballot, or providing materials to help educate their day-of voting plan.
"Grubhub has been a great partner and shown true commitment to supporting voter turnout," said Andy Bernstein, HeadCount's executive director and founder. "We like to say that 'we reach people where they already are.' Well, Grubhub clearly does that as well, so it's a perfect match."
We recognize the importance of Election Day and are announcing a number of ways we'll be supporting our community, including:
Partnering with HeadCount to "Deliver Your Voice" — In the 2016 election, only 55% of the voting-age population cast their ballots, leaving millions of American voices unheard. That's why we've partnered with HeadCount, which has registered almost 450,000 voters for the 2020 election thus far, to encourage our millions of diners across the country to register and get out and vote, providing a one-stop-shop for easy access to voting resources and materials specific to their state.
Sound Bites – Election Edition — Leading into election night and in partnership with HeadCount, we'll be hosting the next edition of our concert series, Sound Bites, powered by First Tube Media. We've partnered with music artists 24KGoldn and Dominic Fike, who will take the [virtual] stage on Thursday, October 29 and Friday, October 30 (respectively). Each 45-minute set will start at 7pm ET followed by a live Q&A, further encouraging fans to participate in this year's election. We'll be donating $10 for every comment during the livestream – up to $100,000 – to HeadCount, supporting their on-going initiative in promoting civic engagement. Throughout the event, fans can also order in with exclusive Perks to avoid missing a second of the concert.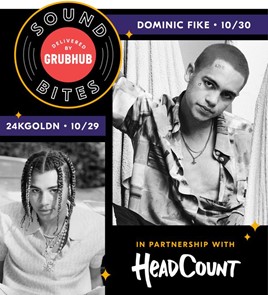 Fueling the Vote — Whether ordering pickup on their way from voting or ordering in to watch the night's results, come Election Day (November 3) diners can access exclusive Perks from 30+ of our popular restaurant brands and save on their order.* Diners can check out the Perks tab in the Grubhub or Seamless apps to find nearby deals or simply place an order with a participating restaurant at Grubhub.com or Seamless.com. A snapshot of featured Perks include (but not limited to):

7-11: free delivery on orders of $15+
BurgerFi: free delivery on orders of $15+
Burger King: $3 off on orders of $18+
California Pizza Kitchen: $10 off on orders of $30+
Pret A Manger: $5 off on orders of $15+
Wow Bao: $5 off on orders of $20+
Keep a lookout for other Perks nearby from restaurants including Boston Market, Haagen Dazs, Kung Fu Tea, PF Changs, Red Lobster, and more!
Giving our Employees the Time They Need — This day honors one of the core principles on which our country was built, and we want to make sure our employees have the time and resources needed to cast their vote. That's why we've decided to give the day off to volunteer, vote, and have their voice heard.
We're proud to be able to do our part in empowering the community to get out and get involved in this year's election.
About HeadCount
HeadCount is a non-partisan, non-profit organization that promotes participation in democracy through music, culture, and digital media. Since 2004 the organization has registered one-million voters and worked with a long list of musicians and partners including Ariana Grande, Billie Eilish, Camila Cabello, Dave Matthews Band, JAY-Z, Beyoncé, March for Our Lives, RuPaul's DragCon, MTV, and Dead & Company. With 40,000 volunteers, street teams in most major U.S. cities, and presence at more than 1,000 events each year, HeadCount ranks as one of the most active grassroots civic participation organizations in the United States. Following COVID-19 restrictions, the organization quickly pivoted to an all-digital approach that led to innovation and online initiatives to fill the needs of the public in using their voices in democracy. For more information, visit HeadCount.org.
* Offers are subject to restrictions and availability, as well as the Grubhub Terms of Use (including the Perks Terms of Use). The offers and promotions described above are not intended to induce, nor are they conditioned on, the act of voting, refraining from voting or voting for or against any particular candidate, political party or measure. Any information shared with Headcount.org is subject to the organization's privacy policies and terms of use.]