Grubhub and Amazon Extend One-Year Free Grubhub+ Offer for U.S. Prime Members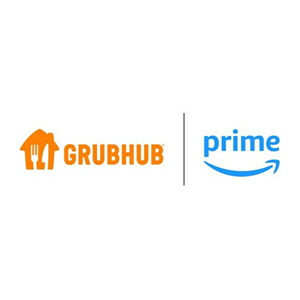 Prime members have already saved hundreds of millions of dollars on Grubhub
Prime members who haven't taken advantage of the Grubhub+ offer can sign up by July 5, 2023 to receive Grubhub+ for free for 24 months
CHICAGO and SEATTLE, June 5, 2023 /PRNewswire/ — Grubhub and Amazon today announced the extension for an additional year of their free one-year Grubhub+ offer for Amazon Prime members in the United States. Prime members who have already signed up for Grubhub+ since the one-year offer was introduced on July 6, 2022, can keep enjoying Grubhub+ and will now receive an additional 12 months for a total of 24 months of Grubhub+ for free, at no added cost to their Prime membership. As a special limited-time offer, Prime members who redeem now through July 5, 2023, can also enjoy a total of 24 months of Grubhub+ for free. Prime members who redeem the offer July 6, 2023, or later will still receive 12 months of Grubhub+ for free.
Prime members can receive a Grubhub+ trial for free, which includes $0 delivery fees from hundreds of thousands of restaurants and discounts including exclusive member-only offers on their orders. Prime members have already saved hundreds of millions of dollars on Grubhub since the start of the offer from waived subscription fees and discounts. Those who place at least one order a month save an average of $230 per year in delivery fees and promotions with Grubhub+.*
"Whether it's saving money on your favorite takeout with Grubhub+, exclusive deals, prescription savings, entertainment, or fast, free delivery on tens of millions of items, Prime keeps getting more valuable for our members," said Jamil Ghani, vice president of Amazon Prime. "Prime members have enjoyed saving money on takeout with Grubhub+, and we are excited to deliver even more savings to those who already redeemed and those yet to redeem by adding another free year of Grubhub+ to Prime."
Grubhub and Amazon are not just rewarding Prime members through cost savings and delivery convenience, but also through exclusive experiences and offers. With Prime Video and Grubhub's ongoing "Tune In & Takeout" series, the age-old dilemma of "what to watch and what to eat" is solved with unique food pairings and promotions that connect to members' favorite shows and movies on Prime Video, like Harlem and Shotgun Wedding. Grubhub recently delivered the Maisel Tov Martini, a pastrami-inspired martini experience for fans to toast to the final season of The Marvelous Mrs. Maisel, and more collaborations are planned throughout the year with upcoming releases such as season two of The Summer I Turned Pretty.
"As we approach the first anniversary of our collaboration with Amazon, we're excited to bring more value to Prime members by offering Grubhub+ for free for an additional year," said Ariella Kurshan, senior vice president of growth and marketing at Grubhub. "Prime members are loving Grubhub+ and using it to get even more delivered to their door from their favorite restaurants through Grubhub. With unique experiences like 'Tune In and Takeout' that complement our core Grubhub+ offer and showcase what Grubhub and Amazon do best, we're incredibly energized by the possibilities from our continued collaboration."
Prime members can sign up for Grubhub+ by visiting amazon.com/grubhub, and those who sign up by July 5, 2023 will receive Grubhub+ for free for 24 months. For more Grubhub+ details and terms, visit grubhub.com/plus.
About Grubhub
Grubhub is part of Just Eat Takeaway.com (LSE: JET, AMS: TKWY), and is a leading U.S. food ordering and delivery marketplace. Dedicated to connecting diners with the food they love from their favorite local restaurants, Grubhub elevates food ordering through innovative restaurant technology, easy-to-use platforms, and an improved delivery experience. Grubhub features more than 365,000 restaurant partners in over 4,000 U.S. cities.
About Amazon Prime
Prime is savings, convenience, and entertainment in one, single membership. More than 200 million paid Prime members in 25 countries around the world enjoy access to Amazon's enormous selection, exceptional value, and fast delivery. In the U.S., anyone can join Prime for $14.99 per month or $139 per year, or start a free 30-day trial if eligible at amazon.com/prime. For more information about Prime, including discounted memberships, visit aboutamazon.com/prime.
* $0 delivery fees on eligible orders. Other fees may apply on orders. Based on savings on delivery fees and Grubhub+ exclusive promo offers for Grubhub+ members through Amazon Prime nationwide who signed up in July 2022 and placed at least one Grubhub+ order per month. Individual savings will vary depending on purchasing activity. Individual member savings, fees, and available offers may vary based on location and purchasing activity, among other factors.
SOURCE Grubhub Inc.