Expanding the Value of Direct for Grubhub Merchants

Since our founding in 2004, we've focused on helping restaurants drive orders online and build up their digital presence — an effort that has taken on many forms as technology and our industry have evolved. In our early days, we served as a digital marketplace to send orders to restaurants that they fulfilled. We added our own delivery drivers into the mix over the years to give restaurants an option for delivery support if they didn't have their own drivers. 
Now fast forward to 2021 when we rolled out Direct, a commission-free branded web ordering channel that gives independent restaurants more options for driving online orders from their own branded channels. Direct recommitted to helping merchants strengthen their digital presence, but our work isn't finished. We continue to find new ways to help our merchants succeed online, and today, we're excited to share our latest features coming to Direct soon. 
"A robust digital footprint is key for merchants as they look to reach more diners across ordering channels," said Kate Green, vice president of restaurant services and innovation at Grubhub. "Our restaurant innovation team is hyper-focused on gathering and analyzing feedback from merchants and data from our platforms. We put these insights into action to further support restaurants' goals by building products and tools that help drive their business forward. We're excited to strengthen our offerings for merchants and to serve as an even better, more valuable partner."
Integration with Google Business Profiles
Merchants will be able to add their Direct site across their Business Profile on Google Search and Maps and select it as their preferred ordering channel via our integration. We know running day-to-day operations is a full time job and resourcing continues to be a challenge across the industry, so we're making it as easy as possible for merchants to promote their Direct site with just a few clicks within their Direct dashboard. With this integration, we're putting the control in merchants' hands to get greater visibility with hungry diners searching for restaurant options, driving more orders without commissions. According to Grubhub data during testing, we found that on average, Direct merchants who list their Direct site on their Google Business Profile receive nearly 20x the orders compared to those who don't list their Direct site on their Google Business Profile.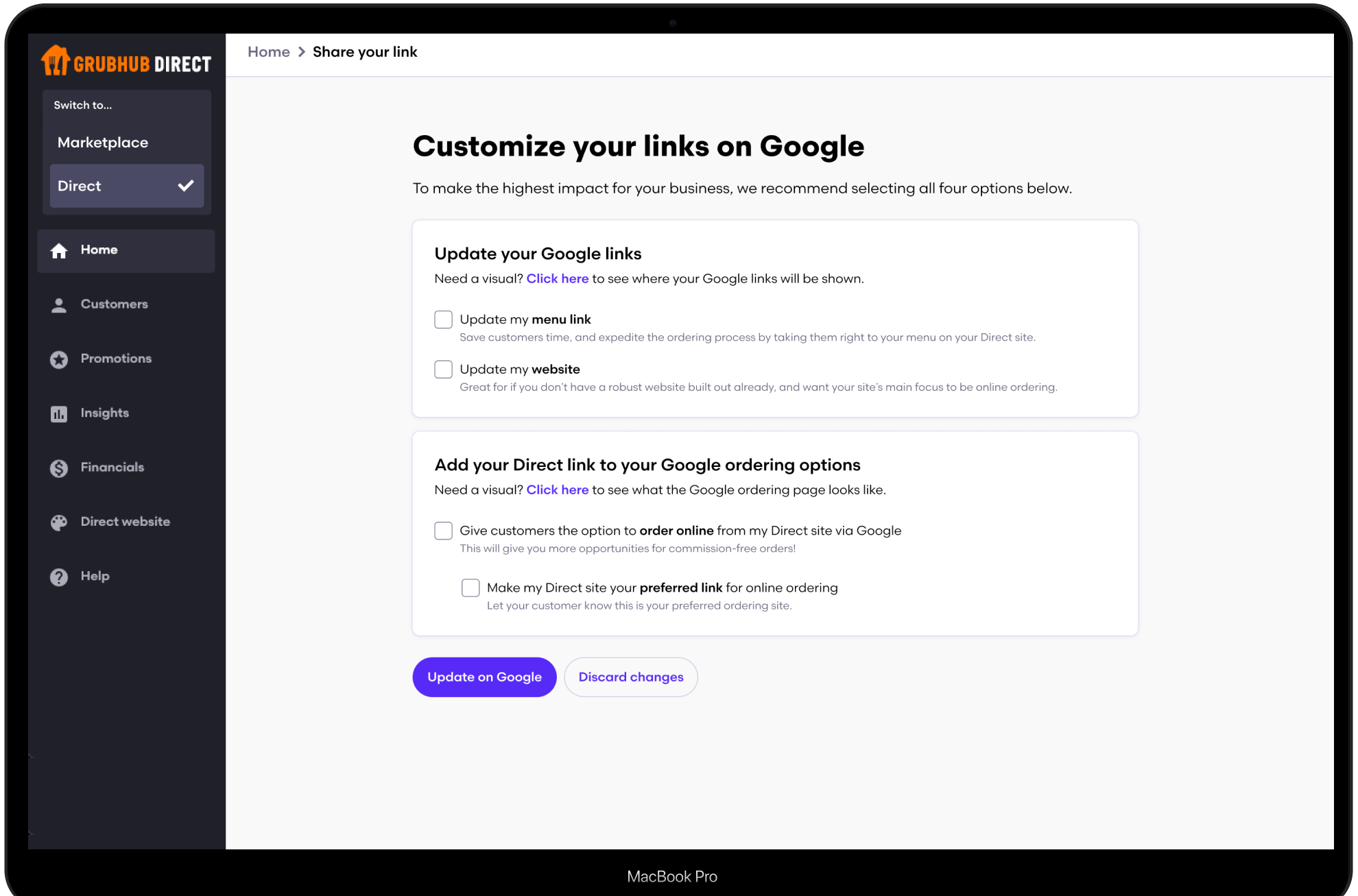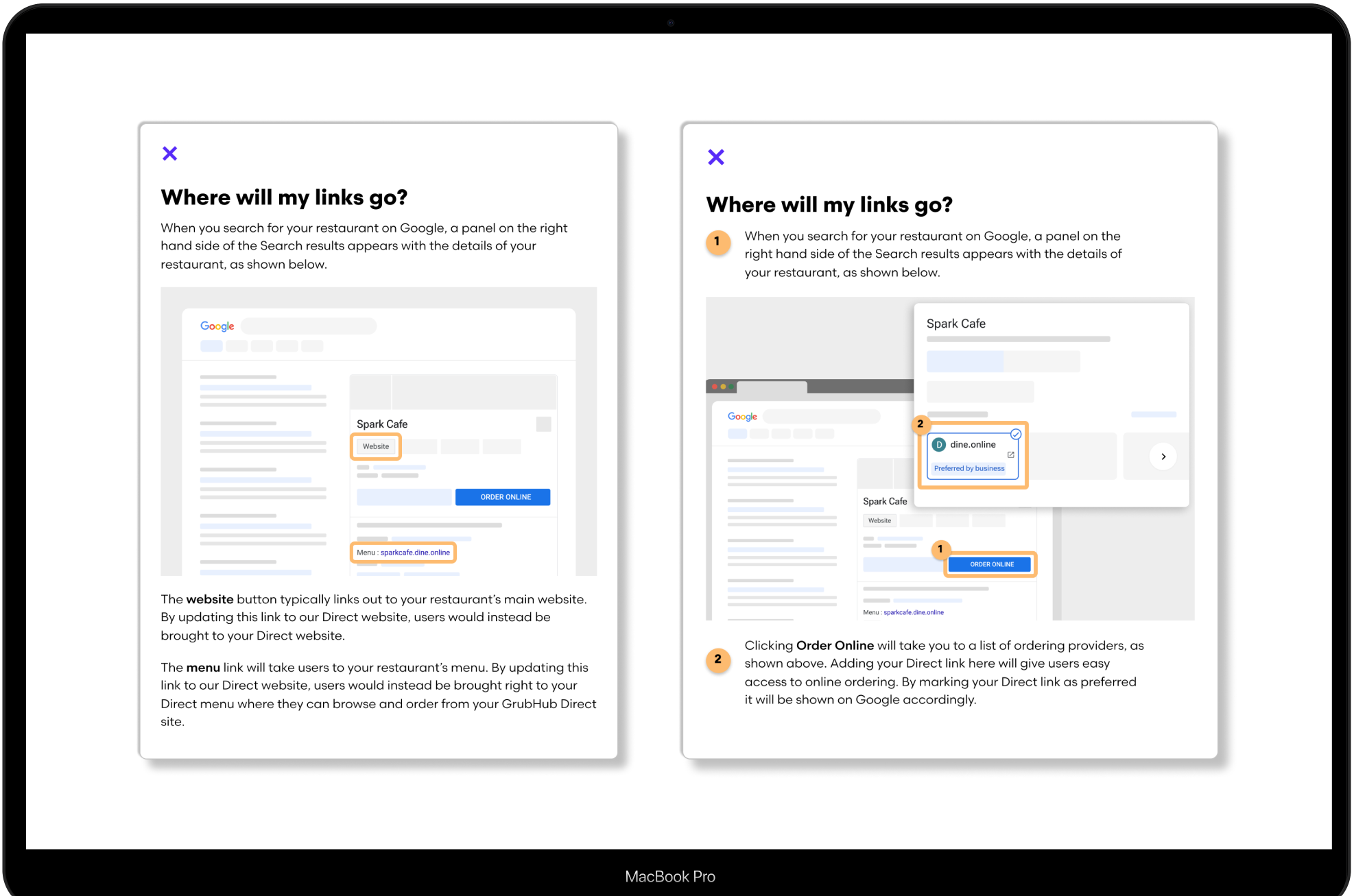 $0 delivery fees for restaurants on Direct orders
Direct has always been marketing commission-free, but in the coming weeks, we'll begin waiving the delivery fee (previously $1.99 per order) paid by Direct merchants that use Grubhub couriers to deliver Direct orders. Cultivating deeper relationships with our restaurant partners is invaluable, and we've built our business by helping restaurants grow theirs. It's these efforts and technology that allow us to serve restaurants by providing tools to reach new diners and grow their business. 
Guest checkout for Direct
Direct is all about enabling merchants to drive more commission-free orders and reach even more diners. With Guest Checkout, diners will be able to order from a merchant's Direct site without creating a Grubhub account. This removes a barrier to placing an order at checkout, making it easier for new diners to order while helping restaurants generate more sales.
Commission-free ordering and integrations that allow merchants to market to diners are just two components of our Direct product suite. We also know just how powerful a loyal diner base is for our partners. To generate this loyalty, merchants first and foremost need to be where their diners are. Today Direct is a branded website, but as we look to the future, we're testing additional branded channels that will enable merchants to add more touchpoints with their diners. Stay tuned and up to date with the latest Direct advancements here.