Grubhub and Technomic release new data insights from independent restaurants
April 27, 2022
Every restaurant operator's pandemic experience is unique, creating different needs and expectations from the partners they rely on for marketing and delivery. To better understand what independent restaurants value most as they continue to recover, we partnered with Technomic to uncover how restaurateurs are using third-party marketplaces and delivery services and which tools and features set their operations up for success.
"The last two years have been both challenging and revolutionary for restaurant operators. As the country emerges from the pandemic, we set out to learn how restaurant needs have adapted and what operators require from their partners to be successful in this deeply changed restaurant environment. The results were illuminating and showed that independent restaurant operators continue to value digital channels, and look for tools and services to optimize their operations and grow their order volume."

Donna Hood Crecca, Principal at Technomic Inc.
---
The trends

Virtual restaurants are test beds for growth

Customizable, owned channels complement marketplace listings

Greater insights and analytics help increase order volume
Virtual restaurants are test beds for growth
68%
of operators who added virtual concepts during the pandemic report that this is a permanent addition
Virtual restaurants give operators the opportunity to test additional, delivery-only menu concepts. These concepts create new revenue streams, attract untapped customers and increase restaurant exposure, all with little overhead. It's a low-risk way for operators to try new concepts out and avoid a huge financial hit if they don't see the success they were hoping for.
In fact, our research with Technomic shows that virtual restaurants continue to gain popularity among restaurant operators, with two-fifths (41%) of independent operators currently operating virtual restaurants and nearly half (46%) planning to open three or more concepts in the next 12 months. With the pandemic propelling restaurants to find additional revenue streams, these concepts were widely adopted and have staying power, with 68% of operators who added virtual concepts during the pandemic reporting that they are a permanent addition.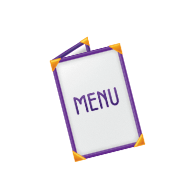 Operators that already offer additional concepts aren't just offering one, either; on average, restaurant operators list
5 unique virtual concepts.
With nearly 80% of operators working with third-party delivery providers to drive virtual restaurant concept development, there's an opportunity for Grubhub and other providers to support operators and solve for some of the challenges they face when it comes to making these concepts a success, including the time it takes to launch and market the concept to build awareness and loyalty among customers.
Whether a restaurant operator is looking to create their own menu for a virtual concept or prefers a turn-key concept, Grubhub offers its expertise and solutions, including our new, premium virtual restaurant concept, MasterChef Table.
"I operate six virtual concepts, and all of them complement my brick-and-mortar storefront menu. Using ingredients I already have, I'm able to create additional menus without adding extra costs while reaching new customers. Virtual concepts can be daunting to many independent operators who may not know where to start, but the opportunity they possess should make them something every operator considers."

Demetrios Pseudoikonomou, owner of Cappy's Pizza and Subs
Customizable, owned channels complement marketplace listings
97%
of operators said the ability to customize an ordering site is of the greatest importance
Three-quarters of independent operators currently offer online ordering via a third-party marketplace provider, and many also value having their own channels for direct online ordering. This illuminates an area of opportunity for third-party marketplaces to provide more solutions to help restaurants with direct ordering tools.
Benefits of offering direct online ordering solutions.
These insights speak to the importance for restaurants to have the option to own the customer relationship from end-to-end, in addition to marketing on platforms like Grubhub. This is why we created Grubhub Direct, a commission-free branded web ordering solution specifically tailored to the needs of independent operators. Grubhub Direct enables operators to launch a site in a matter of minutes and gain instant access to customer data. With Grubhub Direct, operators get access to a variety of tools, including customizable branding, loyalty and promotion capabilities and more.
We know how important solutions like Grubhub Direct are to restaurant partners, and we're working on more tools within the Grubhub Direct portfolio to provide additional features for restaurants, enhanced analytics tools, mobile capabilities and more.

"We're thrilled with the success we've seen with our launch of branded web ordering with Grubhub Direct, which has resulted in high average tickets and repeat diners."

Chris Ives, VP of Finance and Development, Bubbakoo's Burritos
Greater insights and analytics help increase order volume
88%
of operators that partner with Grubhub agree that the insights and promotional tools help increase order volume
As a restaurant operator, having visibility into how your restaurant is performing is crucial to increasing order volume and ultimately creating an engaging customer experience that keeps diners coming back. In fact, nearly 90% of operators agree that they see a high return on investment by being on the Grubhub Marketplace.
With insight into what menu items are most popular with diners, how promotions are performing and more, operators can adjust their operations and investments as necessary. Maybe that means adding new menu items that capitalize on items that are selling well, or extending the availability of a promotion to reach more diners when they're searching for their next meal. With the Grubhub for Restaurants Portal, operators get insight into all of this and more with the support of a dedicated Account Advisor who is available to help maximize their profitability.
With the importance of insights to the efficiency and effectiveness of a restaurant's operations, we're continuously identifying how to add features and functionality that give operators greater insight into their performance and reward them for strong performance.
"I spent a lot of time changing my Grubhub menu and analyzing how those changes impacted sales. Grubhub's dashboard and web portal are by far the best of all the delivery platforms."

Spencer Philips, owner and operator of Scoop DeVille
We don't succeed unless our restaurant partners do, and we're committed to listening to their feedback and turning it into actionable and tangible solutions and tools to help them reach their goals. Learn more by reading the full Technomic report and see how we provide value to our restaurant partners.
---
Methodology
The report was developed by Technomic, a leading restaurant industry market research and consulting firm, on behalf of Grubhub. To obtain the data featured in this report, Technomic conducted surveys with consumers and independent restaurant operators. The surveys were fielded by Technomic January 20-28, 2022. Participants were not compensated or otherwise incentivized by Grubhub. The data and claims presented in this report accurately reflect the survey questions posed and participant responses, but are applicable only to those who participated in the survey.