Supporting restaurants and communities through COVID-19 and beyond
These are uncertain times, and while we can't predict what tomorrow will bring, we recognize our responsibility to do all we can to help keep restaurant doors open. Our business depends on restaurants like the local coffee shop, the burrito joint, the sandwich place, or that great wing spot. And over the last six months, we've seen restaurant owners and delivery drivers fill an essential need in their communities.
Put simply: We've made it our mission to support restaurants. That's why we're sharing an update on our efforts to help our restaurants and communities during this challenging time.
We spent $100 million to support restaurants, drivers and diners.
It became clear early in the pandemic that restaurants needed our support, first as a bridge to federal aid and then to help them survive this time through delivery and pickup orders. In early May, we committed to funding what we anticipated would be $50 million – from the start of April through the end of June – toward driving orders and keeping communities safe. When June came to a close, we had spent twice that amount.
$85 million went to driving more orders to restaurants through coupons we funded, reduced diner fees, and increased advertising. This investment stimulated more than $200 million of incremental sales for our restaurant partners.
$15 million went to protecting restaurants, drivers and diners. We sent 250,000 personal protective equipment kits to drivers and recognized their efforts with increased pay and more bonuses. We also provided restaurants with tamper-evident stickers giving peace of mind to restaurants and diners that their food would stay secure and untouched in transit.
We gave restaurants more flexibility.
As a demand-generation engine first and a delivery service second, Grubhub is rooted in products and features for restaurants to drive and fulfill orders in the ways that make the most sense for their business. Our established technologies have never been more important, and we complemented them with new offerings that serve restaurants, drivers and diners.
Offered since 2013, online ordering links make it easy for restaurants to add online ordering directly to their website. Grubhub does not charge a marketing fee on these orders because the restaurant generated the demand and they should keep the revenue. We've facilitated millions of orders to restaurants through these online ordering links.
We power websites, apps, loyalty programs and ordering platforms for restaurants through our in-house agency, LevelUp. These products showcase the restaurant's brand, enabling them to build loyalty and drive delivery and takeout orders however is best for them. In the coming months, with our Grubhub Direct web product, we will also pilot white-label capabilities for SMBs to reach restaurants that previously didn't have the resources to devote to a customized direct-order website.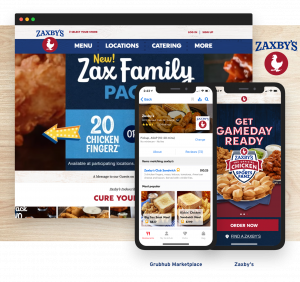 Grubhub Ultimate now lets diners place in-person orders from start to finish on their smartphone via a QR code instead of touching a kiosk. We're extending this feature to SMB restaurants without Ultimate by offering a free, custom window sign that includes a QR code for a contact-free pickup ordering experience without any marketing fees. We've already sent signs to hundreds of SMB restaurants.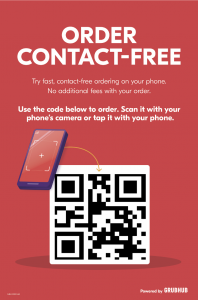 Smart Promotions use data to help restaurants grow their orders. Restaurants use the Grubhub for Restaurants portal to specify goals and a monthly Smart Promotions budget, then Grubhub recommends and implements the most effective promotions for their business. We've also matched Smart Promotions budgets, allowing restaurants' investments in these promotions to go twice as far.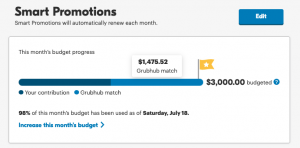 We continually put data in the hands of restaurant owners through our Insights Dashboard on the Grubhub for Restaurants portal. The dashboard gives a detailed look at daily and weekly sales, orders, menu item performance metrics and trends, all in one place, with new data points frequently added to the dashboard based on feedback from restaurant partners.
We implemented contact-free delivery and curbside pickup to keep our restaurants, drivers and diners safe during the pandemic. Contact-free delivery is the default option for diners at check-out, and restaurants can offer curbside pickup to diners and drivers to prevent groups from gathering in the restaurant.
We dedicated more than $7 million and counting to local communities.
Since 2018, our Donate the Change product feature has allowed diners to support organizations that help those in need across the nation by rounding up their total to the nearest dollar. Our diners have collectively donated over $1 million per month through Donate the Change, enabling our charitable partners to make a big impact.
We established the Grubhub Community Relief Fund to provide financial relief for our community, including restaurant partners and drivers. More than $7 million donated by Grubhub and our diners is going to charitable organizations that support communities impacted by COVID-19. These include:
The Restaurant Strong Fund gives direct financial support to independently-owned SMB restaurants and their employees. Our donation goes to restaurants and their employees in Chicago, Boston, Philadelphia, New York City and Detroit.
MEANS makes it possible to donate food from independent restaurants that would have gone to waste to local emergency feeding services. Grubhub's donation will be used to purchase left-over food from restaurants in Chicago, Los Angeles, Philadelphia and Providence.
World Central Kitchen has activated a network of restaurants and food service providers to safely produce individually packaged fresh meals that are delivered to those in need. Grubhub's donation paid restaurants for these meals and handled delivery logistics in New York City.
The Food Bank of New York City provides emergency meals to vulnerable New Yorkers impacted by the economic downturn and COVID pandemic.
The Boys and Girls Club of America offers critical services for young people across the country and much-needed childcare services for essential workers. Grubhub's donation is supporting the costs of re-opening key childcare centers in New York City.
We also took steps to feed frontline workers through partnerships with Verizon and Hellmann's Food Relief Fund. Tens of thousands of meals, prepared by local restaurants, were given to healthcare workers in New York City hospitals free of charge. These programs helped both restaurant workers and hospital staff, and leveraged Grubhub's delivery network to get food from restaurants to the hospitals.
Our work is not done. We're committed to continuing to add features, products and resources that help our restaurants weather this crisis and support their communities. Restaurants have trusted us as a partner for more than 20 years – we look forward to serving them for the next 20.